Overview
The Archives of First Nations community media organisations form a unique record of First Nations community media activities, and of First Nations law, culture, language and histories. First Nations media organisations are committed to preserving their Archives for future generations through organising the Archives professionally as well as digitising media which is at risk due to media deterioration and player obsolescence.
First Nations Media Australia (FNMA) has been working with these organisations since 2013 as well as with national and State/Territory collecting and cultural institutions to support the preservation of these unique and culturally important Archives. The collaborations led to the development of the National First Nations Media Archiving Plan in 2014.
Further work by FNMA has led to the development of information resources to support the archive work of First Nations media organisations. These resources include standards and recommendations for metadata and digital formats for digitised media.
This Archiving Resources page provides downloads and links for use by First Nations community media organisations. All resources are copyrighted to First Nations Media Australia and may not be used for commercial purposes.
DISCLAIMER: While all care has been taken in the preparation of this material, no responsibility is accepted by First Nations Media Australia, its staff, volunteers or Board of Directors, for any errors, omissions or inaccuracies. The information resources and proformas have been prepared to provide general information only. They are not intended to be relied upon or be a substitute for legal or other professional advice. No responsibility can be accepted by First Nations Media Australia for any known or unknown consequences that may result from reliance on any information provided in the resources.
Deadline 2025
All tape-based formats created in the 20th century are now obsolete. Tape that is not digitised by 2025, is at risk of being lost forever. The National Film and Sound Archive's Deadline 2025 document sets out the problem, with the deadline creating a planning point for archives to work from in planning the staffing hours and priorities needed for digitisation.
Using the Archiving resources
The resources provided on this page support a "development actions" workflow as summarised in the Actions for Development of First Nations Community Media Archives infographic. FNMA will develop an Archiving Manual in 2020 based on the workflow and resources. Once finalised, it will be available on this webpage.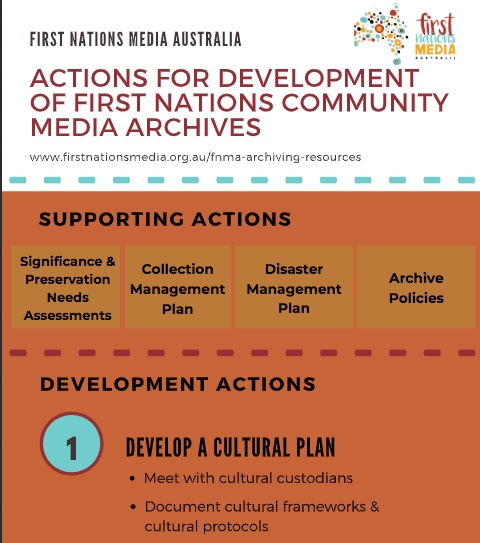 The Archiving Resources are framed within two basic principles underpinning First Nations community media Archives:
In the management of First Nations media archives, Aboriginal and Torres Strait Islander knowledge and Law are the guiding principles.

Local Aboriginal and Torres Strait Islander peoples are essential cultural authorities at the centre of all decision making associated with management of the archives.
Please note: The usage of these resources is approved for First Nations community media organisations and Archives only. Contact First Nations Media Australia to discuss usage outside of that sector.