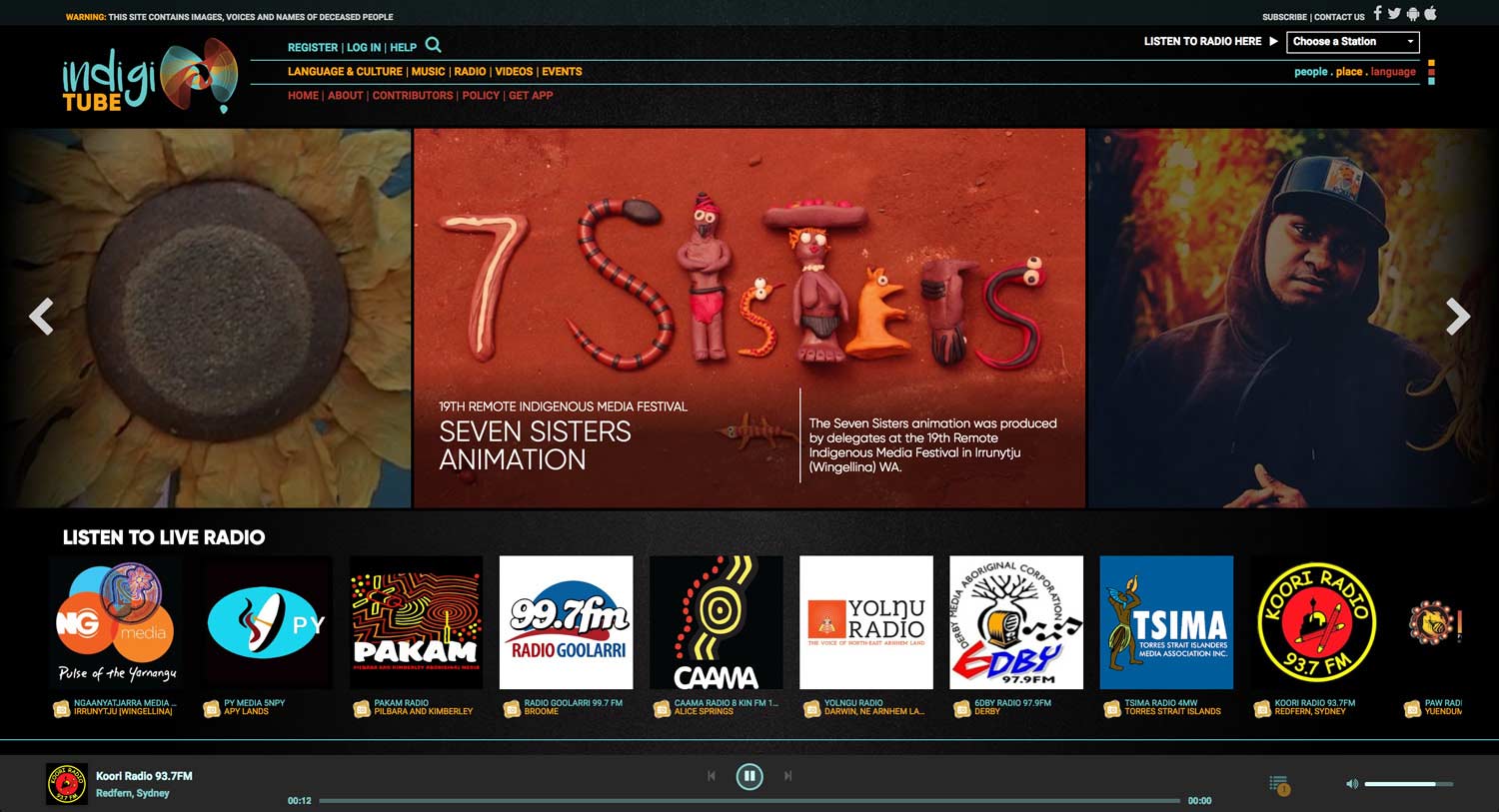 indigiTUBE GOES LIVE SEPTEMBER 2018
indigiTUBE is being redeveloped as the media platform by and for First Nations people, preserving traditional language and culture for our future generations.
indigiTUBE will establish itself as the national go-to media platform. It will profile and promote the diversity of our First Nations media content; radio, music, video, oral histories, language resources and also provide an outcome focus to the ongoing task of the digitisation of media archives. We estimate that there are 1000s of hours of archive content locked away and indigiTUBE will provide a centralised access point. ​
We will build value for our industry and serve as a promotional tool for artists with links to their sales portals, curating features and helping to build story around artists, contributors and events.
SYDNEY LAUNCH
As part of the inaugural First Nations Media Awards on Friday 23 November, indigiTUBE will launch in Sydney with performances from First Nations artists around the country.
CONNECTING STORIES, LANGUAGE AND CULTURE ACROSS THE COUNTRY
indigiTUBE contributes to the cultural safety and community wellbeing of our First Nations communities. Culturally appropriate content becoming available for viewing by national and international audiences enhances the appreciation for our cultures and languages. It is also an effective online communications resource for First Nations organisations and individuals, providing an appropriate portal for media producers to distribute and access their content in a connected digital economy.
indigiTUBE will be available as iOS and Android apps, as well as an online website media platform with built in social media sharing for users to promote on Facebook and Instagram. Content will be available in the future as an app on services such as Apple TV, Telstra TV, Google TV and Smart TVs. The redevelopment of indigiTUBE has taken into account how people are connecting to and accessing media; the increase of smartphone and tablet use and limited access for remote communities. Contributors have the option to mark their content for streaming, download and airplay.
HOW IT WORKS
Listen and view: Users will be able to start listening and viewing First Nations content from across the country.
Contribute: Media organisations, workers and independents will be able to sign up for a free account and contribute content, selecting their preferred options regarding streaming, downloads and airplay promotion.
Promote: Additionally, First Nations and community radio stations and broadcasters will be able to contribute content, as well as download content for broadcast from the one account.
A CALL FROM THE INDUSTRY
The expansion and redevelopment of the indigiTUBE media platform for profiling First Nations media services and sharing content is in response to a call from the industry as part of First Nations Media Australia's role as the national peak body.
The indigiTUBE platform was first established in 2008 with IRCA managing the radio streaming and audio content and Indigenous Community Television (ICTV) managing the video content. It was a response to increased access to the internet and high uptake of mobile phone technology in remote First Nations communities. It also addressed the growing demand for access to appropriate content. In 2016 the management of indigiTUBE was transferred to IRCA after ICTV established the ICTV Play service.
Let's get social! Follow us on facebook or instagram and stay connected. #indigiTUBE
Enquiries to Jaja Dare: jaja@indigitube.com.au.
indigiTUBE is a First Nations Media Australia initiative supported by the Indigenous Languages and Arts Program of the Department of Communications and the Arts.