1 Background
First Nations Media Australia received Indigenous Languages and Arts Program funding to identify and trial an appropriate and affordable archive collection management system for First Nations community media collections. The focus of the project is on systems for:
Recording the metadata for analogue and digital objects in collections.
Searching and reporting on the collection for access and preservation.
FNMA considerations on the choice of a platform were focussed on how well platforms support organisations to:
Identify, record and efficiently arrange what is in their Archive (analogue, digitised and born digital objects).
Record decisions for conservation and digitisation of analogue media.
Access pathways for suitable digitised and digital media to be viewed online.
The project assessed existing systems for affordability and appropriateness, including investigation of any customisation or app or systems integration possibilities suitable for the sector.
FNMA formed a Steering Group and a Reference Group to work with the sector and stakeholders in the identification of a suitable platform(s).
2 Project outcomes
The project was undertaken in two key stages:
Evaluation of available archive platforms and recommendations of options for use by First Nations community media collections;
Trial of recommended archive platform (Mukurtu) with three pilot organisations.
Additional outcomes of this project included:
FNMA Archive Resources Toolkit: A range of archiving resources have been prepared as part of the project and are available in the Archiving Resources section of the FNMA website. The resources are also now available on our interactive Toolkit at: toolkit.firstnationsmedia.org.au. Two manuals are also being developed for Archive Managers and Archive Workers.
First Nations Media History archive: A First Nations Media History archive collection was established on the hub to house photographs and media of key sector events, activities and people. Any contributions of sector history images, audio or video welcome- please contact [email protected]au.
Skills Workshops: Deliver two face to face training skills workshops (Remote Indigenous Media Festival 2019 and CONVERGE 2019) and five webinars.
2.1 Platform identification
The project investigation determined that there was no single platform (regardless of cost) able to meet diversity of Archive needs in the First Nations community media sector. The cost of a custom-built platform was beyond the funding available to the project. Therefore, the project took an alternative and flexible approach based on affordable and culturally appropriate platforms that could be customised to align with the First Nations media metadata profile. The project identified a range of Archive "scenarios" with recommendations for specific platforms considered effective for the various scenarios.
Physical and digitised media platform
Five platforms have been recommended against seven scenarios. The platforms and scenarios are:
Excel
Google Sheets
The Collecting Bug
Mukurtu
Keeping Culture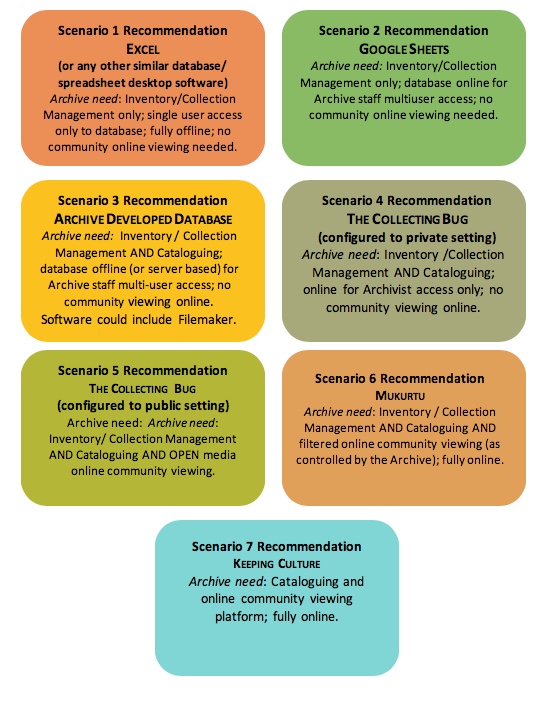 Born digital media
A curation approach has been recommended for born-digital media with Neofinder identified as the in-house digital assessment management system, and separate viewing platforms used for community access. This structure is shown in the following diagram.
Decision support guide
A summary of the platform scenarios and a flowchart for supporting Archives make selection decisions is available for download here.
2.2 Trial of Mukurtu archive platform
The Mukurtu content management system was selected for the Stage 2 trial due to being designed for First Nations collections with cultural protocols for managing access to items, cloud-based, open source, affordable and sustainable, and able to support collection management and community access to digital media.
In early 2020, FNMA established the First Nations Media archiving hub using the Mukurtu platform, to support organisations to set up and self-manage 'spoke' archives on the site. A 6 month trial of the platform was undertaken from March 2020 with three pilot organisations- PAKAM, PAW Media and Umeewarra Media. Each organisation was provided training and support to contribute a range of media types - audio, video and photographic- to the platform, add metadata using recommended value lists, and set access protocols for each item. The evaluation survey undertaken in October 2020 demonstrated the effectiveness of the platform to meet the archiving and community access needs of the three organisations and that the training and support was highly valued.
Based on the outcomes of this trial, FNMA is seeking funding support to expand the use of the Archiving hub to other First Nations media and community organisations.
3 Project staffing
The Project Manager in 2019 was Susan Locke.
The Project Manager in 2020 is Daniel Featherstone. Email [email protected]au.
Technical support for the project and First Nations Media Archive hub by Ben Pridmore. Email [email protected]
Inquiries may also be made to First Nations Media Australia at [email protected]firstnationsmediaaustralia.org.au or phone on 08 8952 6465.
4 Acknowledgements
This project was made possible through funding support by the Indigenous Languages and Arts Program, managed by the Department of Infrastructure, Transport, Regional Development and Communications.
A huge thanks to Susan for contributing her wealth of knowledge and experience in developing the First Nations Media Archiving Plan, the archive platform project and the Archive resources, and for volunteering additional time to the Mukurtu trial setup.
A special thanks to the three pilot organisations- PAKAM, PAW Media and Umeewarra Media- and to the members of the Steering Group and Reference Group for the project.
We gratefully acknowledge the support of key industry partners - AIATSIS, National Film and Sound Archives, Library and Archives NT, Melbourne University, and Jumbunna Institute UTS- and to Washington State University for managing the open source Mukurtu platform.
5 International Digital Curation Conference
In the lead up to the formal commencement of the project, Susan Locke, Elizabeth Napaljarri Katakarinja, Simon Japangardi Fisher and Daniel Featherstone attended the International Digital Curation Conference in Melbourne in February 2019 and met with attending First Nations archive managers to gain feedback on the project. The feedback confirmed the direction being taken with the platform, and identified some key issues for organisations, including affordability, sustainability, non-proprietary, flexibility with regard to media being online or not, and capacity to integrate through csv capability with systems that may or may not be in use in the sector.