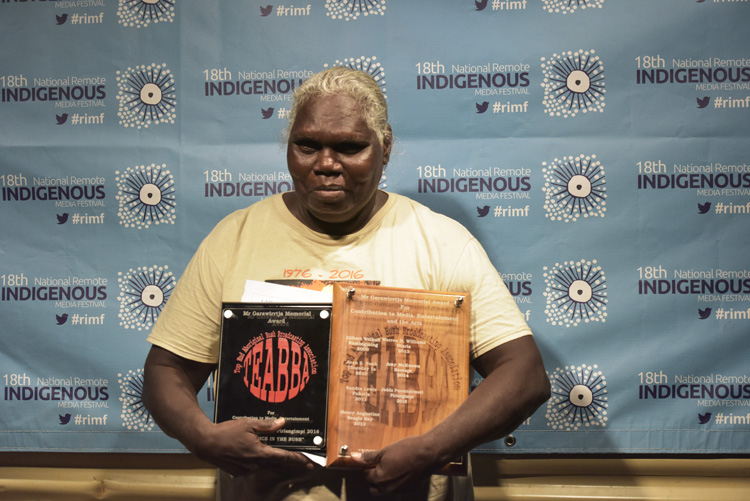 Mr Garawirrtja Memorial Award for Contribution to Media, Entertainment and the Arts
Mr Garawirrtja was a founding member of TEABBA 1989 on its inception, contributing 20 years of dedicated service to TEABBA and the Indigenous Multimedia Industry both remotely and Nationally. His involvement in this industry has been nationally recognised for his contributions to dance, music & media, by being one of Australia's best BRACS/RIBS Broadcasters. Participating in many Local & National Indigenous Incentives, Australian Olympics Indigenous Broadcast, Garma Festival, Barunga Festival and as well as the NT Indigenous Music Awards, now National Indigenous Music Awards. Promoted and participated with bands from the Galiwinku Community, Elcho Island, East Arnhem Land. These include United in One (Gospel), and the Soft Sands. Mr Garawirrtja has worldwide recognition and is respected as a role model and leader for his enthusiastic and passionate work in the Indigenous multimedia industry, known through his Film contributions to the Yarning up Series, by introducing the very popular Chooky Dancers.
Winner:
Jedda Puruntatimeri (TEABBA)
TEABBA Chairperson, Paulina Puruntatimeri, affectionately known as "Jedda" is a Tiwi Islands lady. She is very passionate about training people in remote Indigenous communities. Jedda has done radio in her communities and made two short film documentaries that have screened with national television broadcasters and around the world at various film festivals. She is committed to digital archiving, and represents her Community art center. Jedda has a strong media vision and has represented the national Indigenous media sector in many roles.