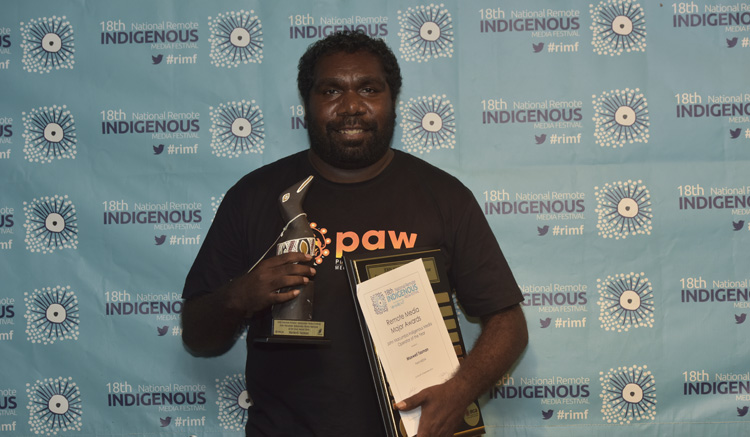 John Macumba Indigenous Media Operator of the Year Award
The John Macumba Indigenous Media Operator of the Year Award was inaugurated by CAAMA in 2011, in memory of John Macumba, one of the pioneers of Indigenous media in Australia, who passed away in 2010. "As a radio broadcaster in Alice Springs in the late 1970s, he was one of the first Aboriginal voices on the public airwaves. He was the prime mover behind the establishment of CAAMA in 1981-82, and then - as a consultant under contract to the ABC - he went on to set up Umeewarra Media in Port Augusta in 1989. John was a member of the Ministerial Task Force on Remote Broadcasting in 1982 and a consultant to the Dix Committee's Review of Public Broadcasting in the same year. He was the Founding Chairman of the National Aboriginal and Islander Broadcasting Association (NAIBA), which was the forerunner to the National Indigenous Media Association of Australia (NIMAA)." This Award is sponsored by CAAMA.
Winner:
Maxwell Tasman (PAW Media)
Maxwell Tasman is a regular broadcaster in Lajamanu community every afternoon. He is very reliable and independent, also producing his own local content with little or no supervision. Maxwell has been broadcasting since 2007. He plays a unique mixture of desert reggae, christian rock, hip hop, and speaks both Walpiri and English during his show. He seeks local news stories every day and invites interesting guests to the studio for live on-air interviews.